VALO Hotel & Work in Helsinki was ahead of its time, as it developed its "office by day, hotel by night" concept before the pandemic. The utilization rate for office buildings is often a mere 5-10 percent. This is an opportunity for clever space use.
To this end, all of VALO's 422 rooms are flexibly both versatile work spaces and inspiring hotel rooms. One of the furniture solutions to help with this double function is Tablebed, a Finnish furniture innovation that turns from a table to a bed in 10 seconds.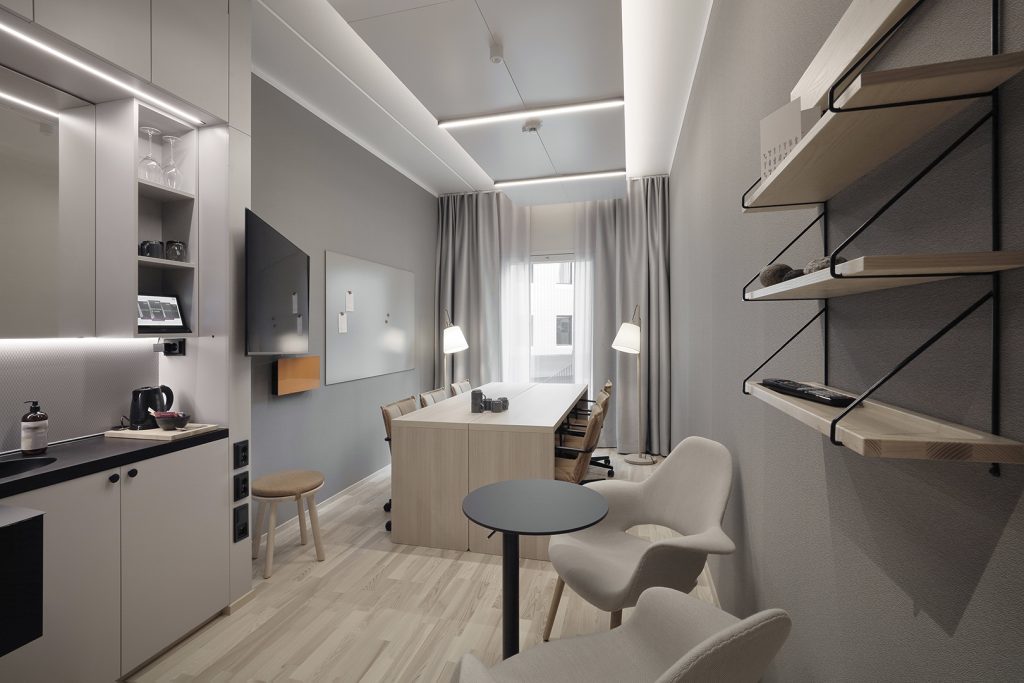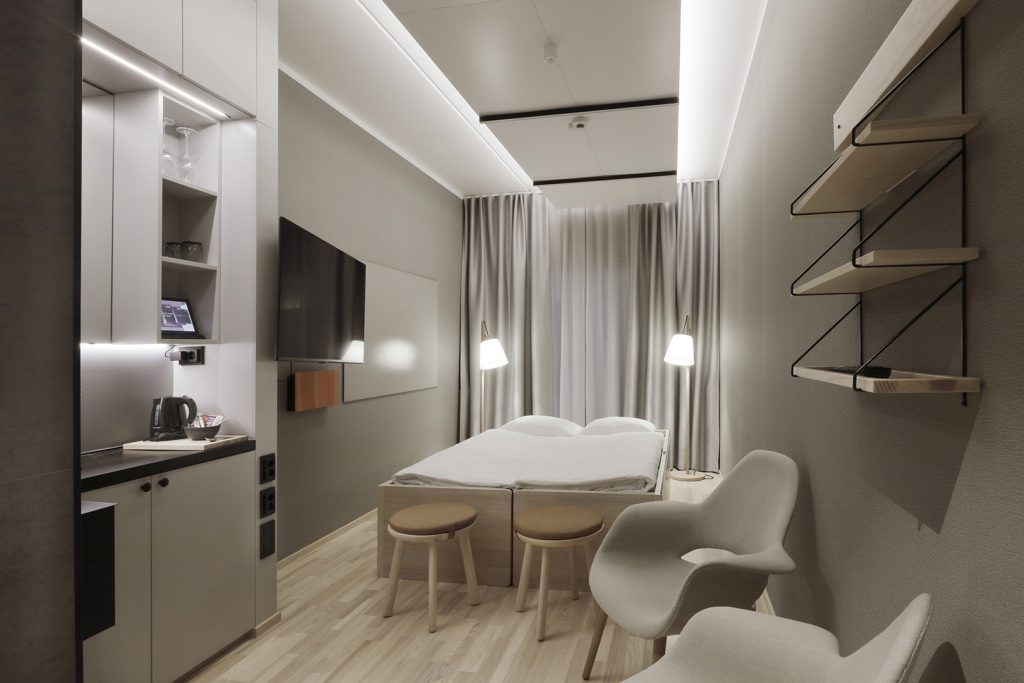 The pandemic has been detrimental to many hotels. As a solution, hotels have started to offer their rooms for remote workers, but the rooms are often not ideal: there's not enough desk space for efficient work or you need to book a different meeting room for meetings with other people.
The people behind VALO had long seen the dilemma of underutilized office space and hotel rooms and decided to build a new building close to downtown Helsinki that was designed to work both as a hotel and an office. Why build one building for an office and another for a hotel when you can have it all in one building? 
"We at VALO saw that it was wise economically and environmentally to build one building which could operate smoothly both as a full-fledged office and a warm-hearted hotel. In a way, we could say we saved 50 million euros by building one building instead of two separate buildings for different purposes," says CEO Jussi Paakinaho from VALO. 
Other ways to reduce the environmental impact is to use as eco-friendly materials as possible, such as bathroom sinks made of 100% waterproof solid wood composite, the first of its kind in the world. In addition, the rooftop pool area stays warm using geothermal heating.
The hotel makeover that happens every night
With its double function as a hotel and office, VALO looked for new ways to operate their space efficiently. Tablebed's solution that provides for a table and a bed in one piece of furniture was a match made in heaven.
Tablebed's story began in 2017 when Finnish Dine Renfors, the founder and man behind Tablebed, wanted to find a way to make the space in his home more efficient. It became obvious that the two most space-consuming pieces of furniture are the bed and the dining table, and they are never in use at the same time. This gave the idea to Renfors to combine the table and bed into one piece of furniture. Read more about how Tablebed found its way to the world in a barn in the Finnish archipelago.
"When we show our customers how Tablebed works, we always get a wow. We've all sweated with sofa beds mechanisms, but Tablebed is something completely different. Tablebed works like a charm," says Jussi Paakinaho.
Tablebed can be turned from a table to bed in 10 seconds. Just watch!
Tablebed is a fully sized dinner table for 6 persons and a double bed, both top-of-the-line in their own right without compromising on comfort or style. Tablebed added a single version to the collection this year, perfect when a workspace needs to double up as a guest room.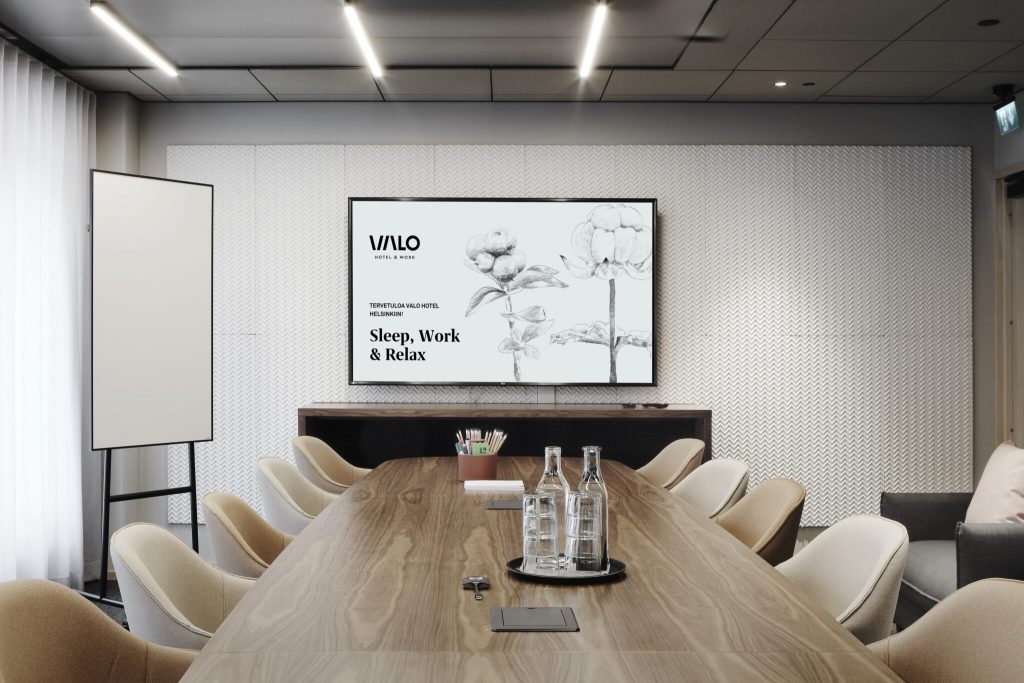 Hotel-grade table and bed in one piece of furniture
"I love the minimalist design of Tablebed. What still blows me away is how comfortable it is to sleep in. Having a good night's sleep is obviously important for a hotel. It's not easy to find hotel-grade, multipurpose furniture and I was super happy to find Tablebed for VALO. An added bonus is that it requires no tailoring, you just wheel it in the room and start working or sleeping," says VALO's Head of Design, interior architect Minna Hurme.
The mattresses and linens are hidden inside Tablebed, so there is no need for extra storage. As you can see from the above video, the patented safe and easy mechanism allows a single person to smoothly open or close it. The innovative hinges, gas springs, and wheels underneath make the transformation from table to bed easy, and the durable lock can easily be opened even with one hand moving the lever.
No need to worry about your kids spilling their juices on the table either, as there is a waterproof sealing strip between tabletops keeping the bed dry even if something is spilled on the table. The sealing strip can easily be wiped with a moist cloth or removed for washing.
"The work-from-home boom has increased the need for multipurpose furniture, such as wall and closet beds. The future norm will be flexible spaces both in private homes and in the hospitality business. Having just one purpose for a space is economically, practically and ecologically unsustainable.
Tablebed is creating a whole new category of space-saving and functional furniture. Everyone knows the sofa bed, but hopefully soon people will know about Tablebed too. VALO Hotel & Work in Helsinki is definitely a pioneer in its field and I'm looking forward to creating similar spaces with them," said Tablebed's Managing Director Joshua Moorrees.