A wall bed is an option if you wish to have more space and you don't want to sacrifice any room from the floor. A wall bed folds out of the wall to become a bed and lifts back up when it's not needed. You may have also heard about a Murphy bed, which is another name of the same invention.
When you need more room for your family members or guests, a wall bed could be the furniture for your needs. With the help of a wall bed, you can increase, for example, an Airbnb or other rental apartment's additional sleeping places even though the floor space stays the same. In addition, even bedlinen can often fit inside the wall bed; therefore, the bed linen doesn't need to be stored in a different place.
Wall Bed – safety
Can a wall bed close on its own when someone is sleeping on it? The answer is no. There is a safety lock to ensure that the bed part won't open up on its own for example, on top of a child who is playing near the wall bed.
However, a few things influence the furniture's usability. To secure a wall bed, you must attach it to a very sturdy wall to be safe. It will require to have several tools in your toolkit, so be aware. In addition, you have to have enough floor space to open the bed successfully.
As we noted earlier, a wall bed is a safe piece of furniture due to its attachment. However, once you install it in one place, it is not that easy to move it around. After detaching the wall bed, the wall is left with awful marks that may need patching and repainting. It's not impossible to refurnish a space without detaching the wall bed, but it definitely has its challenges.
Wall Bed or Tablebed?
If purchasing a wall bed is something that you are considering, take a moment to think about if Tablebed would be a more suitable option for you. Tablebed is a multifunctional innovation: a table that folds into a bed in just 10 seconds. Tablebed is very similar to a wall bed, but its usage is more versatile.
Like a wall bed, Tablebed comes in two different bed sizes: the width of a double bed is 140 cm and in Singlebed the width is 85cm. Both of these pieces of furniture can be held permanently in both ways: as a table or as a bed.
Thanks to quality parts, it is manageable for one person to fold a Tablebed from a table into a bed and vice versa. Tablebed's gas springs allow the fold to feel lightweight, so you do not have to worry about requiring a lot of muscle to handle the folding alone.
If you have a massive urge or inspiration to refurnish the whole space again, Tablebed will easily cooperate with you. Tablebed can be moved from room to room without any attachments to walls or other solid builds. Tablebed can also be taken with you when you move to a new home. Easy, isn't it?
Summary
If you still prefer a wall bed, check Tablebed's Singlebed that attaches to a wall: the furniture is a combination of a worktable and a bed. Singlebed is over 2 metres long, therefore two laptop workers can easily fit at the table or a large project for free time activities (table width 52cm). Even though Singlebed is smaller than Tablebed, adults still fit perfectly to sleep in it.  
Tablebed comes in colours of white, black and oak-coloured. Singlebed is available also in white, black and oak-coloured. 
In case you are planning to have a wall bed in the bedroom, you can read more information about Tablebed's usage:interior of a small bedroom. 
However, if you dream about having a wall bed in the home office, you could be interested in an article about the offices of the future. 
A wall bed can be a functional choice if you need floor space in the daytime and you are not afraid of a hardcore attachment. Choose a Tablebed instead, if you need multifunctionality and a flexible tablespace. Tablebed is a stylish piece of furniture that is perfect for different environments.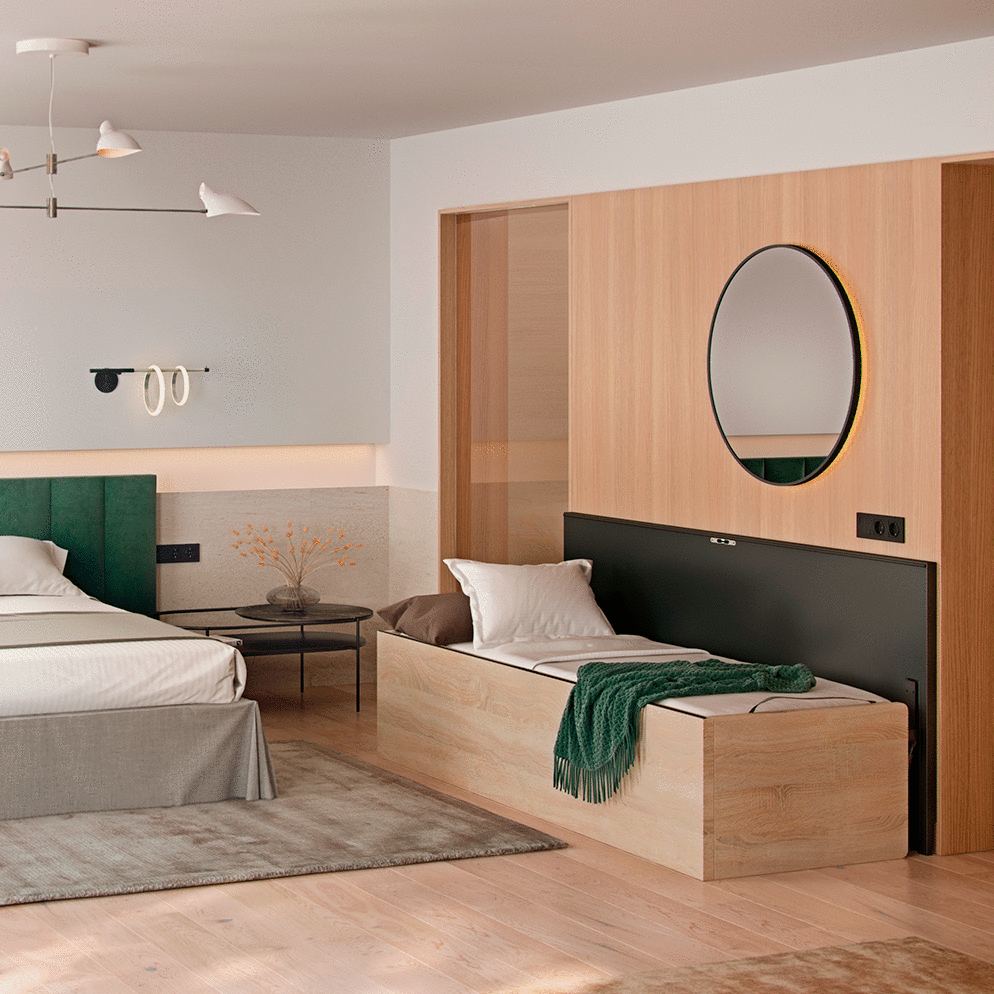 From our reference stories, you can read more about how Tablebed functions in everyday life.