The year 2020 has changed people's everyday life in many ways, not to forget working conditions. The client meetings and team lunches for brainstorming have changed to virtual meet-ups and making lunches a few meters away from the new office – home office.
The size and location of offices
So, what happens when the dust settles and the new normal starts to shape itself? According to the New York Times, most of the office activity will still stay, but the relevant difference is in what form and where.
Instead of one large headquarter, companies might start to invest more in getting several smaller office spaces within and between cities, saving in the leasing expenses and at the same time enabling employees a shorter commute to work. The number of employees per square meter is easier to supervise when it's not about hundreds or thousands of employees rather dozens in one space. Companies might also be looking for more space per person than before.
The relevance of smart interior design solutions increases because companies want to use square meters more versatile and efficiently than before to save on costs. The importance of functional flexibility comes to a new level.
The versatile use of office spaces
After the year 2020, it can only be assumed that many companies start to consider minimizing the leasing expenses of offices by offering continuous WFH-option for their employees full or part-time – like Microsoft and Facebook are planning.
Naturally, this puts the office providers in a new position. How to stand out from the market? To stay competitive enough and get clients?One solution is to create a space with multiple purposes; office, hotel, why not both? A great example is our client VALO Hotel & Work, which rooms can be used both as office and hotel rooms.
By creating a flexible and re-arrangeable environment, there is no need to limit the purpose of the space into one. With multipurpose and easily movable and -modifiable pieces, the use of space is unlimited.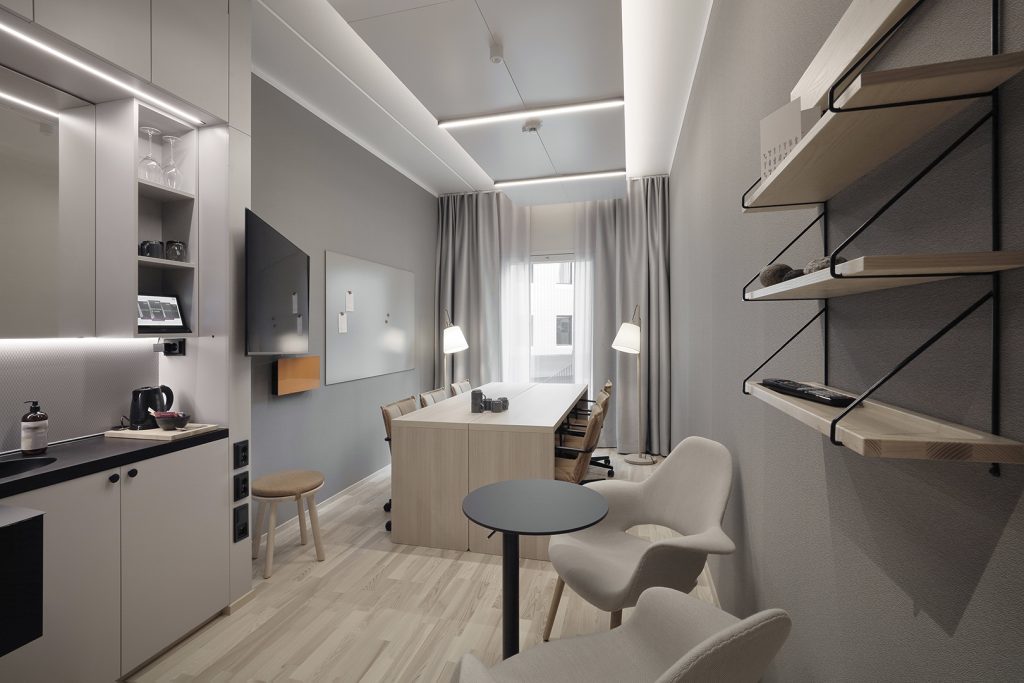 Shared office spaces with multi-functional furnishing
Even though WFH-option is here to stay, people will most likely want to change their work environment at least for few days of the week in the future. Being able to interact, engage, and brainstorm face to face with other people is surely missed.
We have already started seeing how the trend of shared workspaces has started to grow rapidly. In addition to great technology and location, an efficient way to attract people to common workspaces is to create a space, that is versatile and suitable for multiple needs. From a private booth for introverts to a large open space for people for networking.
With a smart choice of furnishing, rooms can easily be reconfigured to serve on multiple different occasions. Flexible seating arrangement is also a good safety measure during/after the pandemic.
The more ways one space can be used, the more often it will be used.
With the help of modular furniture, movable walls, and space-dividers, versatile spaces are closer than ever. A great solution could be a multi-functional and space-saving Tablebed, furniture that can be transformed from a table into a bed in 10 seconds.
The home office of the future
When a home is mixed with work and free time, it might be sometimes difficult to relax at home even during the off days – especially if the home office is 24/7 visible.
Due to the pandemic, hybrid work models and full-time remote working have increased rapidly. Along with this change, the need of being able to hide your home office from plain sight has become a desire.
A great example is multipurpose furniture, such as Tablebed, that enable hiding the WFH-set up in plain sight. If remote work models are to stay, it can only be predicted that furniture with a smart design is getting also more popular among households. And naturally, when we are talking about interior, we can not forget the importance of a great design and style.
Would you like to learn more about Tablebed?
Tablebed is a Finnish furniture innovation that can be used both for private and public use – from home to hotels. If you want to learn more about Tablebed, you can read our references to read how Tablebed is currently being used by our customers.
Read how Tablebed could help you to maximize the use of space, is it then to your home or for your business.