During this year, the need for a dedicated workspace at home has increased. Most of the companies have offered the possibility to work remotely since the beginning of the year, and after a few months of working from the kitchen table, you might want to upgrade your workstation to something more ergonomic and comfortable. Upgrading your workstation means also that you have the possibility to re-decorate the area as you please. And remember, your workstation does not have to be a separate room, but a corner from your living room is also a suitable area for your home office.
Naturally, the essential furniture pieces for the home office are a desk and chair – if you are not working by standing. Working from a laptop is an excellent advantage as it does not require a lot of work surface and a smaller desk is easy to place at home. An adjustable table might be useful to consider if you spend many hours by the desk and from time to time want to switch between standing or sitting down.
Suppose you want to maximize the use of space and take full advantage of every square meter. In that case, you might want to consider adding Tablebed Single to your home – especially if you need an extra bed for occasional sleeping. Within ten seconds, Tablebed changes your work desk to the guest bed. Tablebed Single is available in white, black, and tone of light oak.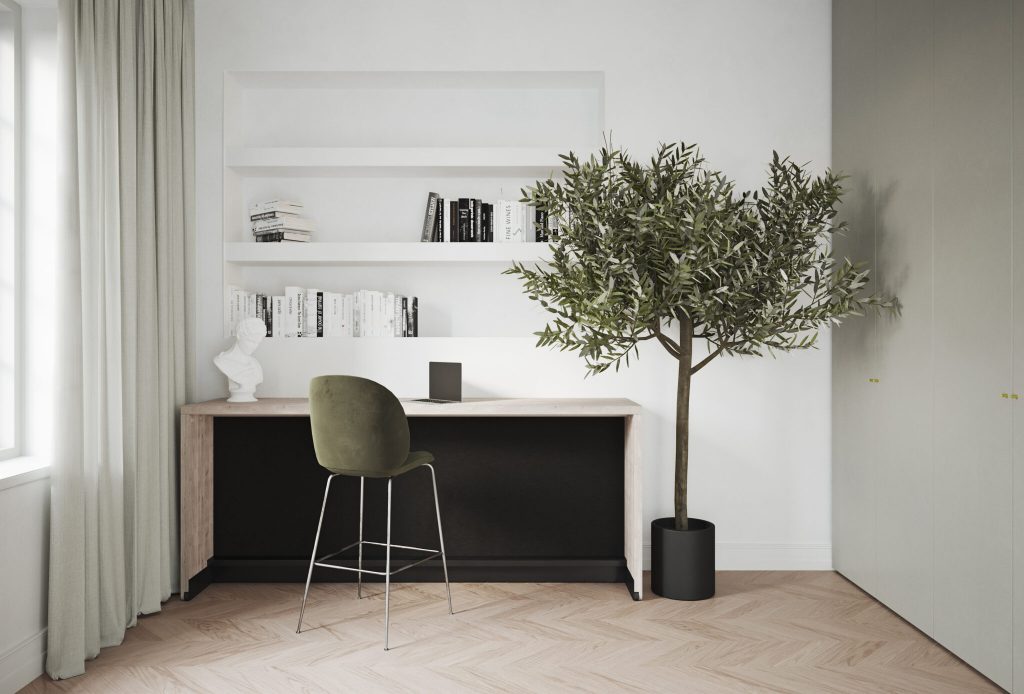 With the help of drawers, closets, and even folders you can organize your office items systemically. With a clean surface, it is also more pleasant and more comfortable to work with. However, remember that more drawers mean also more space to collect and store clutter. So think well before choosing the number of drawers.
How about what kind of chair to get? The office chair is one of the most important items in your home office. Before getting one, think about what sort of features it should have to help you to work ergonomically: do you need to stand up often, or are you sitting down for long periods? You can also consider saddle, gaming, and other ergonomically friendly chairs. A regular dining chair is not the best option as it is not designed for sitting for long periods. So if you have one as your office chair, remember to keep regular breaks.
Home office in the bedroom
The home office is often placed in the bedroom. If that is also your case, you might want to locate the desk next to the window as having a view to look at has proven to enhance working.
If your dedicated workstation is in your bedroom, it is also recommended to keep the surface clean and tidy to maintain a calm atmosphere in the room when getting ready for sleep. This also helps to avoid collecting an extensive amount of dust.
Last but not least, with the help of house plants, you can both purify the room air and get aliveness to the room. If your bedroom does not have a window or you have an alcove that the sunlight does not reach, house plants such as Areca palm and different indoor Fern species are great options.