The interior of a small studio apartment is often a compromise between style, storage space, budget, and needs. There is a limited number of square meters in a studio apartment where you need to fit all your belongings and things you need for living. Eating, sleeping, free time, hobbies, and inviting friends over are all things that demand space. But how to furnish a small studio apartment and even fit in a dining table for 6 to host fun get-togethers?
The interior of a small studio apartment: a bed, a sofa or a dining table?
Two of the following three pieces of furniture can often be fitted into a studio apartment: a bed, a sofa, or a dining table. To invest in a bed requires space but on the other hand, people tend to spend a third of their day in it. Then again without a dining table, working could quickly cause stress on your back if there isn't any other workstation available. A sofa could help to separate sleeping from other activities when all your time isn't spent lying in a bed. A sofa could also come in handy when accommodating guests.
When you have the interior of a studio apartment in mind, it is advisable to start with making a list of the activities that happen in your home during the day. If dining is important to you, you may want to invest in a good table and leave the sofa unpurchased. Then again, if lying on a sofa is a big part of your day, the dining table can be just a side table, and more square meters can be spared to the sofa.
More sleeping places into a studio apartment with multifunctional furniture
A common interior element of a studio apartment is a loft. A loft can be either a solid element or a separate piece of the fitting. The advantage of a loft is that it saves square meters and the available options are quite inexpensive.
One downside of a loft is the heat in the summer while sleeping, changing the bedsheets may be difficult, and a solid mattress doesn't fit into all lofts. In addition, climbing into a loft can be hard or even impossible if you have for example sore feet. A light-weighted loft can even squeak when a sleeper changes his or her position.
There are several Murphy- and wall beds on the market but a few factors limit their attachment, for example the fact that the so-called cardboard walls won't support the heavy weight of a wall bed.
A small studio apartment's interior & kitchen: is the dream about a dining table unachievable?
Depending on the shape of the room and the year it was built, a kitchen in a studio apartment can be on a side of a wall, in a pantry or as its own unit with an island. In addition to the kitchen's mandatory home appliances, you should consider the importance of having a separate dining table. Is the dining table being used only for eating or also for working? How many people are eating around the table on weekdays, and how about if friends are invited for dinner?
Different folding tables that are attached to walls are easy to put down during eating and lifted after one's ready. On the other hand, a folding table doesn't hold up much weight and its attaching can be a bit tricky. Some wall materials are just weak and can't hold up furniture attachments on the walls. There are folding tables that include legs whereupon it immediately increases the number of seats. The same applies to extendable tables – the extension plate can slip inside the table or on its side.
Tablebed offers a solution for a small studio apartment that will increase the kitchen's multifunctionality: a sturdy dining table that you can rapidly fold into a double bed if needed. Around Tablebed's table, there is room for 6 people to dine, or two people to sleep normally in the double bed (bed size 140x 200cm). You can use the big dining table when hosting dinners or as a good workstation or you may use it for hobbies. Dining table-Tablebed doesn't require more than 2 square meters but provides so many different using possibilities.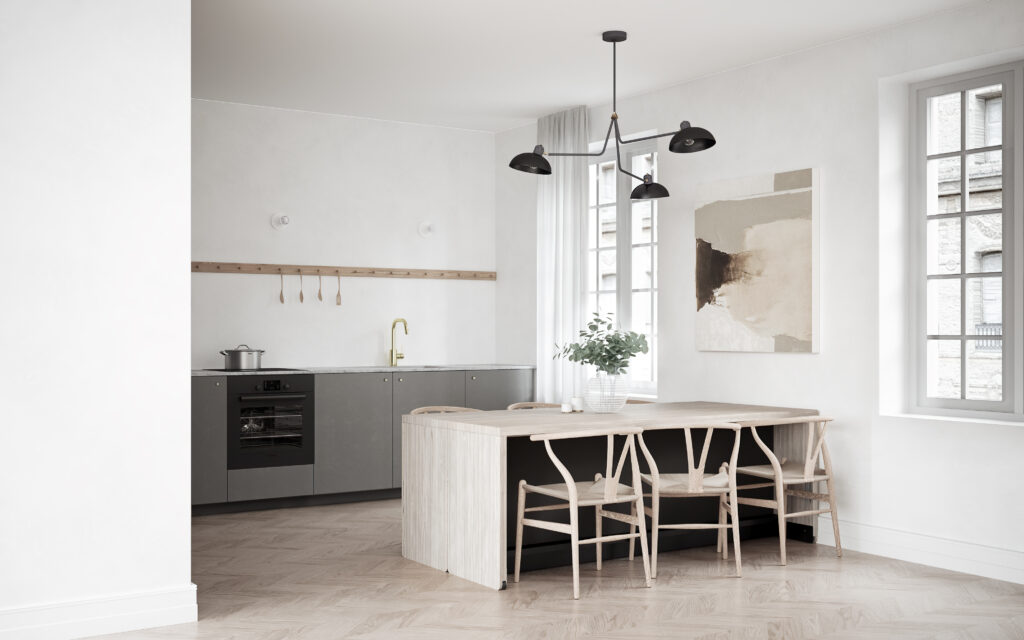 Tablebed's Single offers a combination of a workstation and a guest bed. The length of the desktop is 213cm, therefore it has enough room for even several workers. Then again, the desktop's length (50cm) enables it to fit in even narrow spaces.
In case the apartment is occasionally for example at an Airbnb –use, Tablebed brings more profit per square meter due to extra sleeping places. Thus, Tablebed can pay itself back fairly quickly!
Is it worth purchasing a sofa in a studio apartment?
For some, a sofa is the most important piece of furniture at home where to socialize, dine, take a nap, and even take a night's sleep. For others, a sofa is meaningless. Sofa: yes or no –choice depends on the owner's preferences and needs.
A sofa bed is one solution for having both a sofa and more sleeping places in a room. A disadvantage of sleeping regularly in a sofa bed is that the mattress might not be the best for the back and that you can't change the mattress.
To hide excessive items
You should pay attention to the storage space because items that are left on top of the surfaces easily create a messy overall impression. Therefore, giving away all excessive items is advisable. The rest of the items can be relocated into closets or storage boxes.
The interior of a small studio apartment: checklist
When furnishing a small studio apartment, think first about how you need to use the apartment's square meters. If you use the studio apartment for socializing and meeting friends, you should have more places around the dining table and seats in general than in an apartment that has a more peaceful life.

Consider multifunctional furniture. Tablebed offers a six-person dining table and a double bed which requires just under 2 square meters. Tablebed Single combines a workstation with the guest bed.

Clear all the excessive items out of sight. A small space feels a lot bigger when the surfaces are not filled with stuff. Have enough room for storing – a closet with sliding mirror doors brings more light to the room and hides the excessive items in it.

In case you are renting the place for others, remember to put your purchase into the tax deduction! Tablebed increases the profit gain out of square meters, so the purchase of Tablebed can pay itself back even in a couple of months.