Living rooms have multiple ways to be used: host guests, sleep, play, and maybe even dine. It can also be used as an area for hobbies such as doing home exercises, yoga, or having board game nights with your friends. And even though you rarely see any drying racks hanging around in the living room while browsing both decor magazines and social media channels, that is usually the reality. Taking all these into consideration while planning how to furnish and decorate a small living room in the most efficient way can easily lead to challenges.
While planning the interior of your small living room, it is good to consider what are the most important features it should possess: do you want to have a lot of free space or an oversized couch? Before deciding, think about what are the occasions you might use your small living room for?
Choosing the right couch for the small living room
If you want to have a couch as a center-piece of your small living room, it is worth taking a moment if another before buying one. As the sofa is going to be in a small living room with a little or no extra space, it would be good if the couch has features such as a storage area underneath or at least higher legs giving the extra space underneath the couch. Storage boxes with lids and wheels are handy for children's toys, extra linen, or cleaning equipment. The space underneath the sofa can also be used to store the earlier mentioned drying rack.
In the small living room, a couch will quickly draw attention. This is why it would be good to have stain-resistant and -friendly material and color. Even though light-colored cushions are removable and a washing machine washable, consider are ready to wash them as often as it might be needed to keep the couch looking tidy.
With some decorative cushions, you can brighten up the atmosphere of the small living room if the sofa itself has a neutral color. The amount of decorative cushions is good to keep relatively small to avoid a messy look.
Multifunctional furniture
If there is not enough space for a separate coffee table, you can also consider having stackable stools as an alternative option. These kinds of stools are also a great addition to the household when having friends over. The same also applies to other easily movable furniture pieces such as beanbag chairs, which are light to carry from the living room to the balcony, and vice versa.
A bed in a living room or more open space?
If the living room is also going to be a bedroom, you might want to consider having some other sleeping options than a spring or foam mattress with or without a bed frame. The alternative can be a loft bed, wall bed, convertible sofa bed, or Tablebed. Let's list the different features of these products.
A mattress with or without a bed frame might be the most common bed in living rooms. The couch-like decoration of these beds can be made with a bedspread and decorative pillows. Often, bed frames have also relatively high legs, giving extra storage space. The price ranges of mattresses and bed frames are also huge, which is why they might often be the choice for people who do not want to invest in the bed.
In a small living room, a loft bed is an excellent option as it leaves an empty space underneath it. This space below the loft bed is an ideal place for a couch or dining table. Loft beds can also be very budget-friendly, especially if you find them second hand. The space underneath the loft bed can also be dedicated as a children's play area or as a reading nook. Unfortunately, a loft bed is not the best option for people with reduced mobility. Besides, the loft bed might not be the most comfortable choice when the ceiling height of the apartment is low, especially during warm summer nights.
Different solutions of the closet- and Murphy beds require a robust attachment mechanism that drywalls might not manage to hold. Also, the installation of a closet- and wall beds requires someone with the right knowledge, skills, and tools.
When looking for a solution to sleeping in a small living room, convertible sofa beds might intrigue you. Unfortunately, convertible sofa beds are not usually designed for everyday sleeping. The mattresses of sofa beds are often built-in, and the level of comfortability might not be the highest possible. Furthermore, the mattresses can not be changed to another, decreasing the sofa bed's durability. However, if you are looking for a sleeping option for occasional sleeping, convertible sofa beds can be a good choice.
How about having a bed in the living room but still have free space for the versatile use of your small living room? Tablebed might be the answer to your wishes. Tablebed is both a full-sized bed for two people and a dining table for six people. The measurement of the bed is 140 cm x 200 cm. Tablebed also has an 80 cm x 200 cm sized single bed that can be used for two people's work or craft space.
The transform from a bed into a table and vice versa happen within 10 seconds. The mattresses of Tablebed are also removable making the product a long-lasting and more ecologic option than some other options.
How to make a small room less cluttered?
The number of home accessories and belongings has a strong effect on how a small living room looks. The decoration of a small living room might require minimizing the number of decorative accessories as well as finding useful tricks to store items from plain sight. High built-in shelves and closets are good options when considering how to store belongings. Keep items you frequently use at eye level or below and items you rarely use higher up.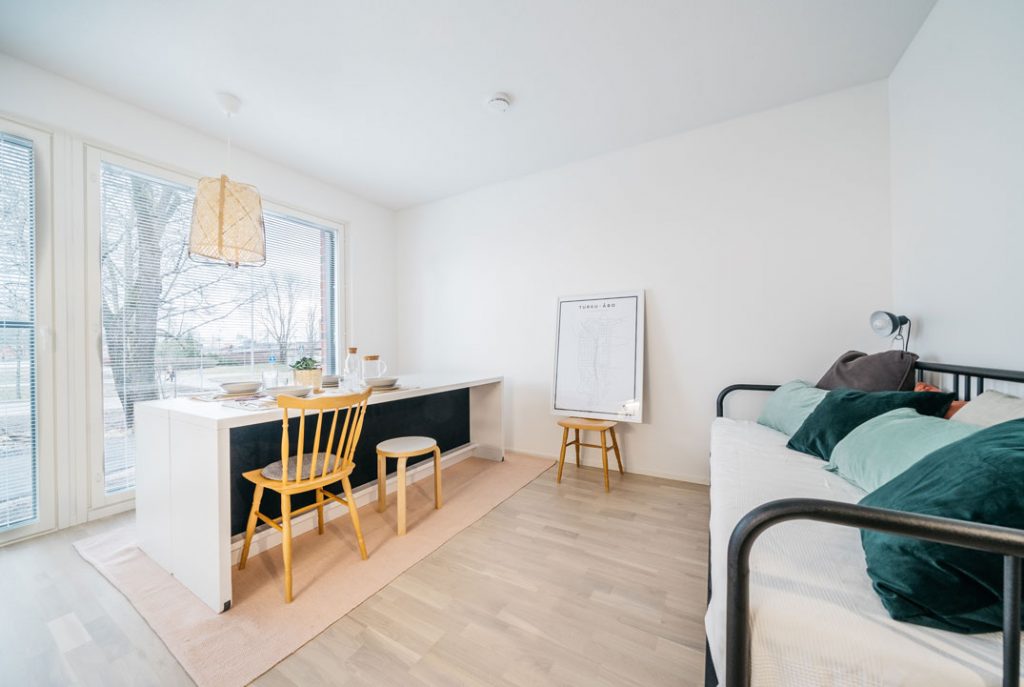 Wall decorations are an excellent way to spice up a small space as they do not require their shelf on the wall. These decoration pieces and be framed photos and posters. However, a small stand can be a great addition to your small living room wall if you like to change your decorative pieces more often.
Brighten up the room with the help of plants
Giving up on belongings and home accessories is usually way harder than getting new ones. The picture of a small and dull living room in your mind might scare you, and cutting down on items can be difficult. However, with fewer items, your small living room will look neat and tidy more easily.
If you still think that the room does not feel right, try to brighten the small living room up with the help of plants. If there is not a lot of space and surfaces for pots in your small living room, macrame plant hangers are a good solution to the problem. Plants that are easy to take care of and do not require a lot of direct sunlight, such as different varieties of Ivy and Pothos, are a great decorative feature. Place them on top of your shelves and let them climb and drape over your shelves.