When a bed covers most of the bedroom's floor area, the room is often seen only as a place that is dedicated to sleeping. Maximization of space would be good, especially in a small apartment, so how to achieve it?
Different closet- and wall beds are entering slowly the Finnish market. Robust attachment mechanisms of the closet or wall beds limit their use as the installation requires the right tools and skills. Furthermore many apartments have thin drywall as their wall material which might not support the closet- or wall bed enough.
A loft bed can also be a tempting option for a small bedroom as it saves extra floor space for a work desk or play area for children. However, if the height of the apartment is relatively low, the level of comfortability is not high either – especially during warm summer days. Unfortunately, a loft bed might also not be the most suitable option for people with reduced mobility.
With the help of Tablebed, the decoration of a small bedroom gives the room also other purposes than just a place to sleep. In the blink of an eye, the bed converts into a table, and your bedroom can also be used as a work or crafts room. Tablebed is two people's bed, sized 140 cm x 200cm that can also be used as a table while working, sewing, or having board nights with friends, or for other hobby activities while in the table mode. With Tablebed single, you get one person's bed and two people's work table.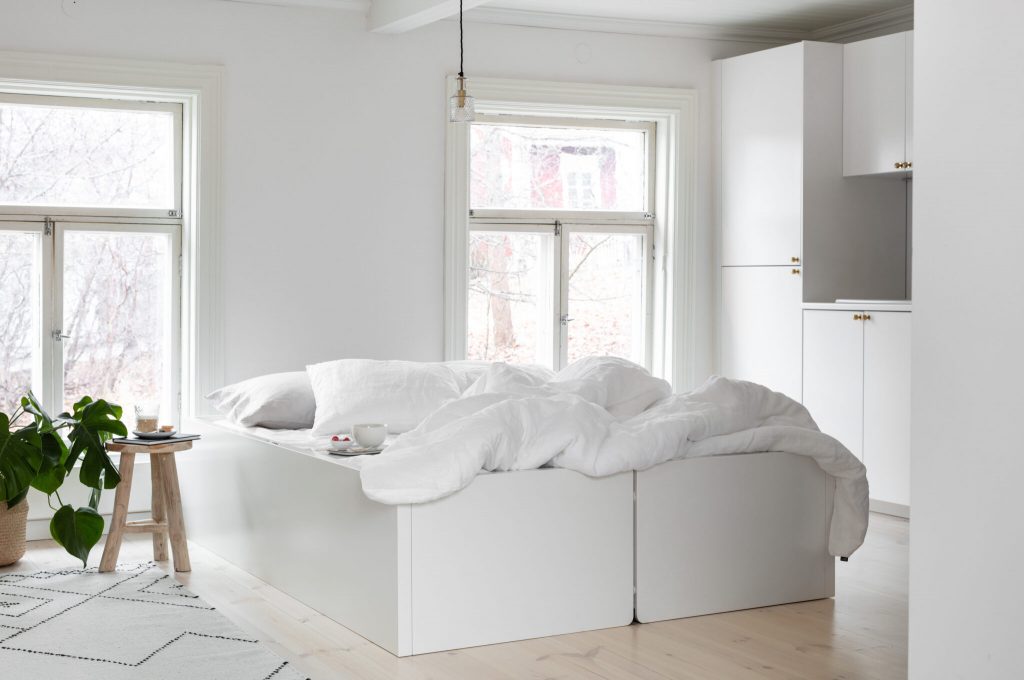 Decoration ideas for the small bedroom
Do not be afraid of using colours in your small bedroom while decorating. Painting a wall or installing wallpaper is a fun way to bring colours and contrast to a small bedroom. Take into account that dark colors on the wall increase the feeling of how small the room is. However, the feeling of a small room can also make the area a more cosy place to sleep. Instead of painting all walls, you can also create an accent wall to brighten up the small bedroom. A colourful bedspread also helps to create a more cosy atmosphere in a small room.
Dark and heavy textiles (such as curtains and carpets) increase the feeling of a small room. For example, velvet curtains might not be the best choice while planning the interior of a small bedroom.
Houseplants and good lighting are vital characteristics for the small bedroom
Aroid palm is a plant that is easy to take care of and fits nicely into the bedroom. Aroid palm does not get bothered if curtains stay closed and it spends the whole day without proper sunlight. The same applies to indoor ferns – the only exception is that indoor ferns are pickier about watering. Ferns like to have the soil kept consistently moist when again Aroid palm will not be offended if the soil dries up between watering.
Planning the interior of a small bedroom sets also its own challenges on lighting. Before choosing the light, it is good to know for what purposes the room is going to be used. If the bedroom is also used for hobbies, the ceiling lamp should be sufficiently bright. Led ceiling lamps are a great choice as they do not dazzle a person. In addition to the ceiling lamp, you might want to consider having a dim or reading light for the evenings.
Storage solutions in a small bedroom
In a small bedroom, the clean look is relevant. Fewer items on display, the more tranquil atmosphere you will have. A small bedroom is also easier to keep clean when items have their own place.
If you wish to have a storage place underneath your bed, this is not unfortunately possible with Tablebed.
Get to know Tablebed's solutions when decorating a small bedroom by clicking this link and continue to Tablebed's online shop.