It is advisable to plan the interior of a small two-room apartment carefully in order to take full advantage of the limited square meters. For the interior of a two-room apartment, start thinking about the usage of the space: is the two-room apartment going to be your or someone's home, or is going to be used to accommodate people businesswise?
If the apartment is going to be used as a home, start building the interior around the life of the people, who are going to live in the two-room apartment. Does the apartment need space for kids' toys, an extra bed for impromptu overnight guests, or a lot of free space to keep up with the hobbies at home during the pandemic? How often is the kitchen being used? Is it mostly for heating up food or perhaps for hosting big dinner parties? Other relevant questions are how much closet space is required, how many beds are needed, and is a big dinner table more important than a comfy couch?
This article discusses the interior theme of a small two-room apartment from different aspects. It's possible to get surprisingly many functionalities to a small two-room apartment as far as the space is planned wisely.
Small two-room apartment as a home
Building a home to a small two-room apartment requires inventiveness. The most important thing is to think about what is meaningful at home. Is the apartment more like storage for different equipment of hobbies and a place to sleep between busy schedules, or to enjoy spending a lot of time?
Those important pieces of furniture are smart to choose based on the lifestyle of people living in the two-room apartment. Does the existing furniture fill the present needs, or should you give something away? You might already have noticed that the space feels more open when it is not filled with furniture.
Most likely, you might have to decide between a couch, a big dining table, and a space for pursuing hobbies. On the other hand, if you don't need a table so often, you can attach an expandable table on the wall in the kitchen. An alternative option is to replace a couch by placing one or two armchairs and/or stackable floor pillows.
On weekdays, stools can be used for example under plants or as a place to store things. When guests come over, clear the stools from the items and offer your guests a seat.
Do we have enough room for storing?
Getting more room to store items can quickly eat a lot of floor space but it can also bring tidiness to a home when every item has its own place. On the other hand, if it's impossible to add more cabinets or closets, you might want to try narrowing down some items. The fewer piles you have lying around on the floor, the bigger the space will seem even if there are fewer square meters.
Will you have regurarly impromptu overnight guests? We have talked about guest bed options in our separate blog article – Go ahead and check it out.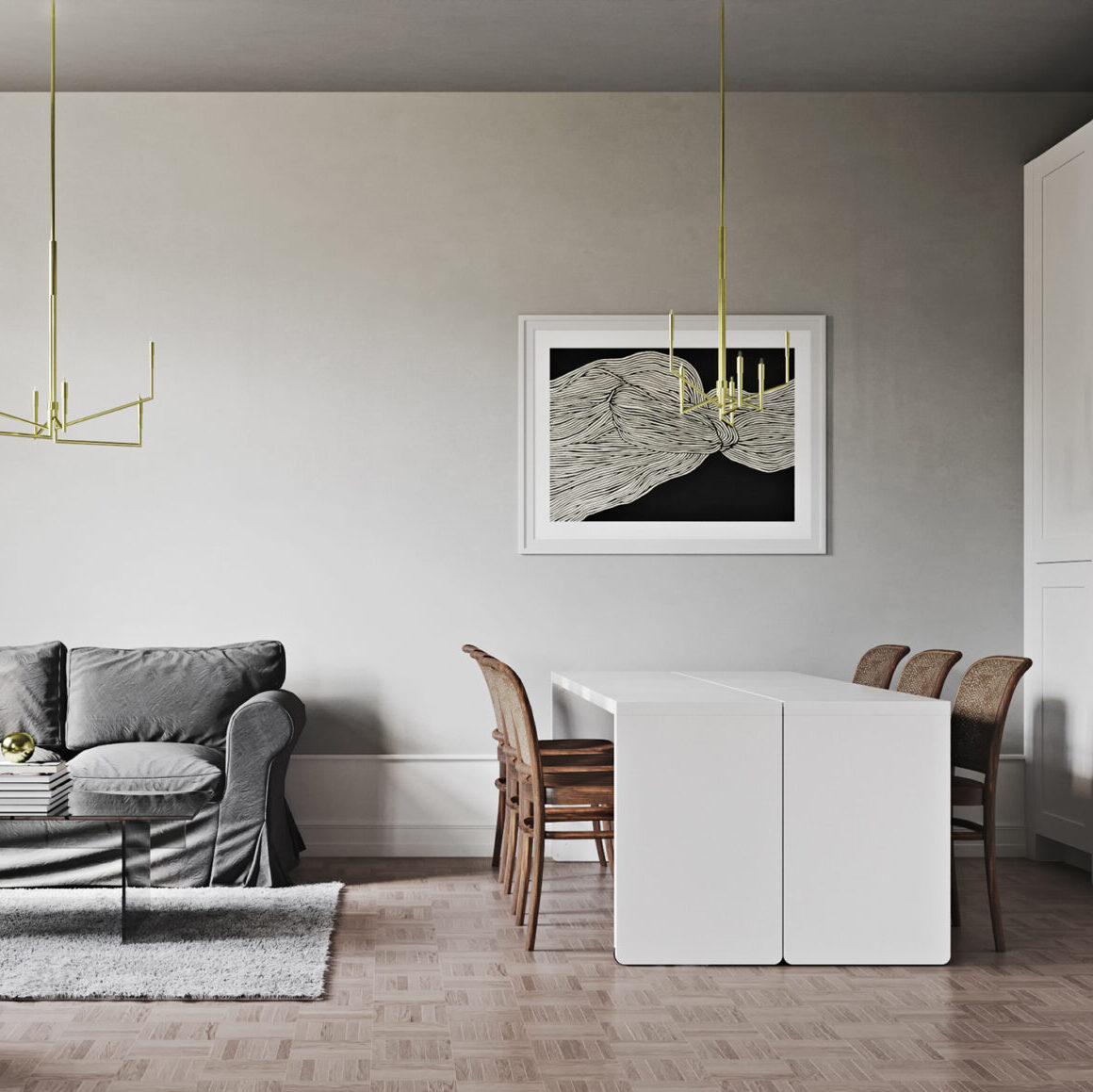 Interior of a small two-room apartment in rental use
If the space will be for professional accommodation, the number of sleeping places will most likely boost how much profit you could earn. What kind of target group would be the most profitable around the area of your two-room apartment?
It's very different to have a modern accommodation for two than to have a family's casual holiday home or a friend group's two-room party accommodation.A professional Airbnb host Joonatan Voltti describes in his book Airbnb – Ansaitse asunnollasi that "Business travellers appreciate fast Wi-Fi and a workstation whereas a family with kids likes to have a crib and a lot of space for cooking". According to Voltti, it is advisable to think about what kind of people will stay the night and what would their purpose be.
To understand this, it helps to think about the apartment's location and usage. Why would people rent especially your apartment: is it near to the sights, place of an event, camping location, good restaurants, or something else? Who will visit these places?
The interior of a small two-room apartment and multi-functional furniture
Whatever the apartment's target group is, you'll easily get more out of the two-room apartment with multi-functional furniture. Space-saving design furniture Tablebed is a great solution for that. Tablebed is a dining table that transforms quickly into a double bed. Naturally, the table can also be used as an excellent work setup. With its minimal design and different color options, Tablebed fits into many interior styles.
With Tablebed, you can host big dinner parties and invite several night guests. You can easily turn a nursery or a guest room into a WFH corner when the kids are in the kindergarten or the grandparent is not visiting. Businesswise, Tablebed helps to increase the profit per night of an Airbnb accommodation by adding more sleeping places.
A tip-list for the interior of a two-room apartment
Think about the apartment's usage: what are the most important activities that are done in the apartment?
A small apartment shines when there's some space to breathe. Therefore, sell or donate those excessive and unnecessary items you really don't need.
Choose multi-functional pieces of furniture to increase the usability of limited square meters.