Airbnb rental has become a popular way to earn additional income. Airbnb rental is about putting your own or another apartment available for accommodation via the Airbnb service. The service takes care of the technical platform for customer acquisition and management, whereas the host is responsible for responding to the coming messages and the maintenance of the apartment.
Airbnb rental is possible, for example when
Renting your apartment seasonally, for example during holidays
Renting your apartment partly
Renting a cottage
Earning additional income with the apartments that you have bought as investments
Airbnb rental and additional income
In his book´´Ansaitse asunnollasi´´, Joonatan Voltti advises how you can estimate the amount of money you can earn by renting your apartment via Airbnb:
Make a list of the apartments that you could rent even for shorter periods
Think about how many people would fit into the apartment – would you rent the whole place or only separate rooms?
How much profit should you make that the apartment would be worth renting?
Look around the Airbnb apartments near to you and compare your own thoughts concerning renting with the other Airbnb apartments. Also, take into consideration the efforts that come along with Airbnb rental (communicating with guests, cleaning and maintaining the apartment). Are you going to take care of all the tasks by yourself, or should you outsource for example the cleaning? Nowadays there are also companies that offer their turnkey services to Airbnb hosts. They take care of the tasks included in the rental process; starting with answering the messages to the cleaning the apartment and giving feedback.
In the case of owning an apartment as an investment, it's worth considering the effort that Airbnb rental causes and compare it to the possible higher revenues that Airbnb brings with it.
Renting an Airbnb room
With Airbnb, you can also rent one or more rooms. Renting your apartment partially works when, for example, the kids have moved away from home, and you feel like there is now too much extra space, but you would still like to keep living there.
Renting an Airbnb room can also introduce you to new and exciting acquaintances. From the Airbnb platform, you can browse through reviews that the previous hosts have given to the guests, and cut off those cases that you, for example, fear would cause noise in your Airbnb apartment. Airbnb allows you to meet different people from around the world.
Airbnb experiences
Without a doubt, there must be some Airbnb experiences in your inner circle – that's why you should ask renting tips from your friends. Even spending a night in an Airbnb apartment can give you ideas of what is a good customer experience. How fast do you reply to messages? How well is the apartment being equipped? Are the photos and the description of the apartment realistic?
Listen to both good and bad Airbnb experiences and think especially where the bad ones come from and why. One of the most important factors is controlling the expectations. You should be honest when describing the apartment – the Airbnb customers' demands vary a lot: some of them look for a cheap price and therefore won't complain even if the condition of the apartment is average. Others, on the other hand, prefer to have some luxury and are willing to pay for it.
Remember to mention, for example, whether you have dogs or other pets. For some, the pets can influence the decision-making – if you love dogs, for example, it can be nice to spend a holiday in a home with a dog!
Airbnb rental and multi-functional pieces of furniture
In an Airbnb rental, the multi-functionality of the space enables it to be rented by different parties. In most cases, when choosing an Airbnb, you look for the best ratio of cost and sleeping places.
A traditional way to add more sleeping places is to have a sofa bed. The downside of a sofa bed is that the comfort is often worse than in a regular mattress, which you can't even change. There are other options for extra sleeping places, for example, Murphy beds are rapidly becoming more popular in Finland. Murphy beds, on the other hand, require a sturdy attachment to a wall which isn't necessarily a good thing, because afterwards, the Murphy bed is hard to move to another room.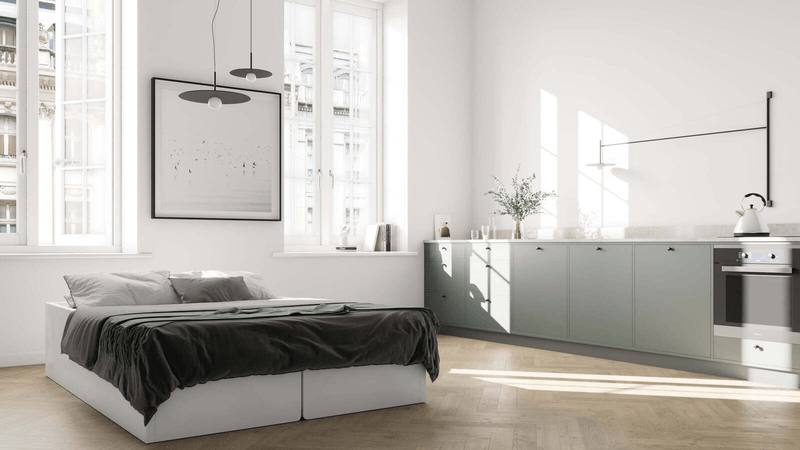 Tablebed, the piece of furniture that goes from table to bed in 10 seconds, is a good way to include additional sleeping places without the need of increasing the square metres. Tablebed is either a 6-person dinner table and a double bed, or a long work desk and a guest bed.
If necessary, you can change the Tablebed's mattress and store linen inside the bed. Get familiar with Tablebed's products.
Five tips for Airbnb rental
Get to know what your competitors are offering – at what price and what kind of spaces are available near you?
Think about the unique advantage that your space has– is it the location, interior or cost?
Get a photographer to take the pictures. The competition is so intense that good pictures will help you stand out from your competitors.
Consider multi-functional furniture – what kind of furniture will help you get the best possible revenue out of your space?
Try renting – renting your space through Airbnb will demand you nothing but time.