Description
More information
Tablebed can be turned from table to bed in just a few seconds. A safe and easy mechanism allows a single person to smoothly open or close it.
The innovative hinges, gas springs, and wheels underneath helps you to open and close the Tablebed.
Using the strap you'll find a comfortable position to open and close the Tablebed.
The durable lock can easily be opened even with one hand moving the lever.
The water proof sealing strip keeps the bed dry even if something is spilt on the table
The sealing strip between the table tops can easily be wiped with a moist cloth.
Thanks to the high quality mattress the sleeping comfort will be much better than in a sofa bed.
The linens are hided inside the table, there is no need for extra storage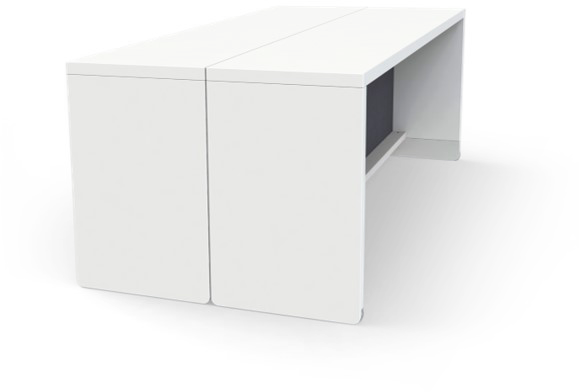 Tableframe: Painted (RAL9010, semi-gloss) mdf-top, paper
Bedframe: Birch-plywood, pine, beech
Mattresses: High-resilience foam 30 kg/m³
Wheels: Polypropylene and thermoplastic rubber
Lock: Zinc, shiny and chromium plated
Maintenance instructions: Wipe the table with a moist cloth, and if needed mild detergent. No abrasive substances or tools.
A fully sized dinner table for 6-8 persons
212 x 95 x 75 cm
Doublebed
140 x 200 cm
Mattresses
200 x 140 x 10 cm (200 x 70 x 10 cm)
Thickness of the edges: 4 cm
Space for knees: 34 cm
Tablebed weights 82 kg, with mattresses 92 kg.
Tablebed is delivered to your door all over Finland. Delivery costs 290 euro.
Tablebed is delivered in six different parts, in three light and easy to handle packages. The metal parts, lock, wheels, cover fabric and gas springs are installed. The foam mattresses are delivered in a separate package.
To assemble Tablebed is really easy. Two tabletops, two end plates and the lever for the lock are put together with one single tool.
Tablebed is made of high quality and we give you 12 months warranty for the mechanical parts.
Sopii kaikkiin sisustuksiin
Kolme hillittyä värivaihto­ehtoa
Tablebedin pääraaka-aine on puu.